Polemos is thrilled to announce that we are doing a full revamp of our strategy roles AND we are opening them to the community! This new system will have clear missions and rewards, as well as a special NFT for each role. Version 1.0 of these community roles should be considered a beta system that will evolve over time with feedback. Note that value and action of Polemos honor points may change at any time as we conduct our overhaul.
Table of Contents
The Roles & Missions
Competitive Players
This position is ideal for people active in the Esports scene and who want to play at a highly competitive level.
Role responsibilities:
Active in Esports events
Organize community tournaments
Live reporting of gameplay and tournaments
Run teaching streams in the Polemos Discord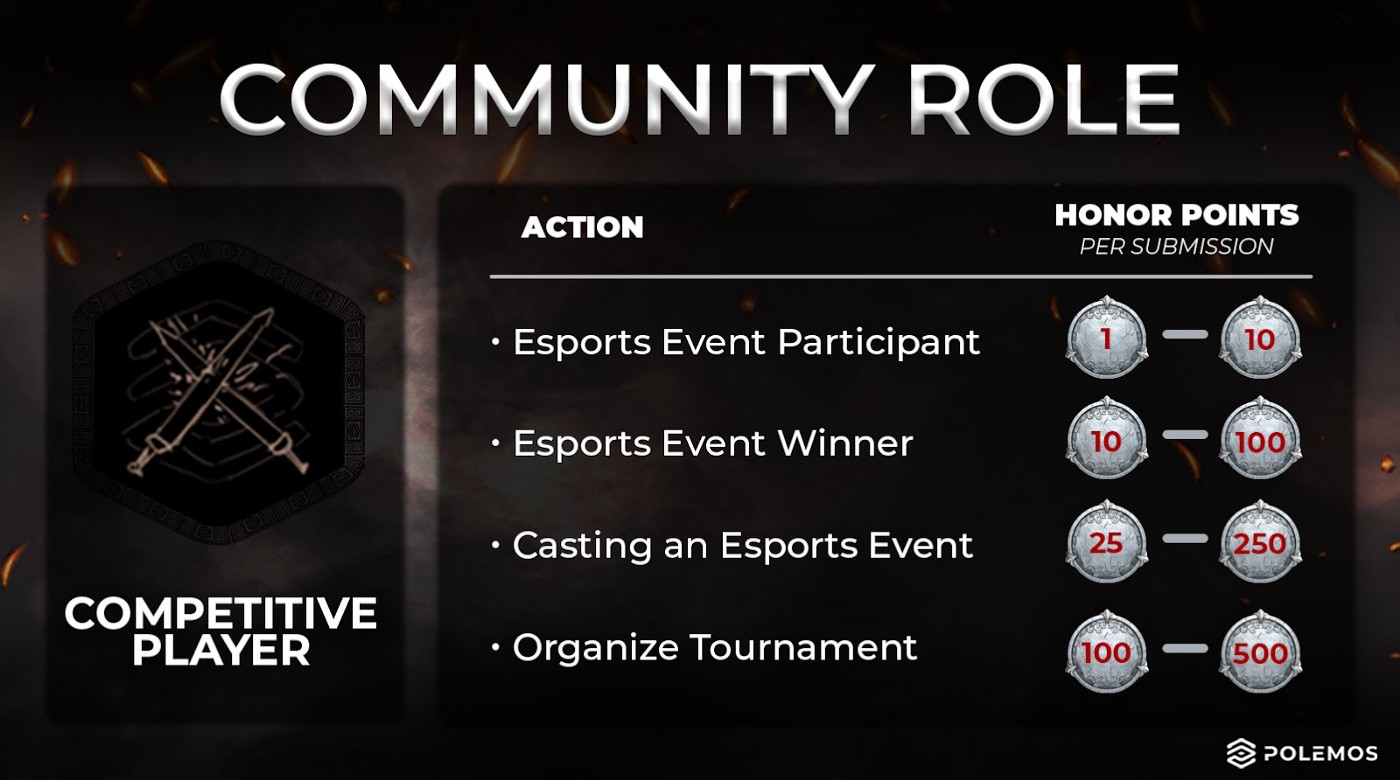 Course Creator
Are you a wealth of information when it comes to GameFi, blockchain gaming, and Strategy? Do you want to educate others by creating courses on such information? If your answer is yes to both, then this role might be for you.
Role responsibilities:
Create lessons for Polemos University
Create videos for the University
Design infographics to be used for GameFi education
Game Expert
If there is one game that you simply can't get enough of and know everything about, you may be a great fit for this position.
Role responsibilities:
Share anything and everything about a specific game
Submit weekly game news updates
Game update/patch note rundown
Be active in the Polemos game channel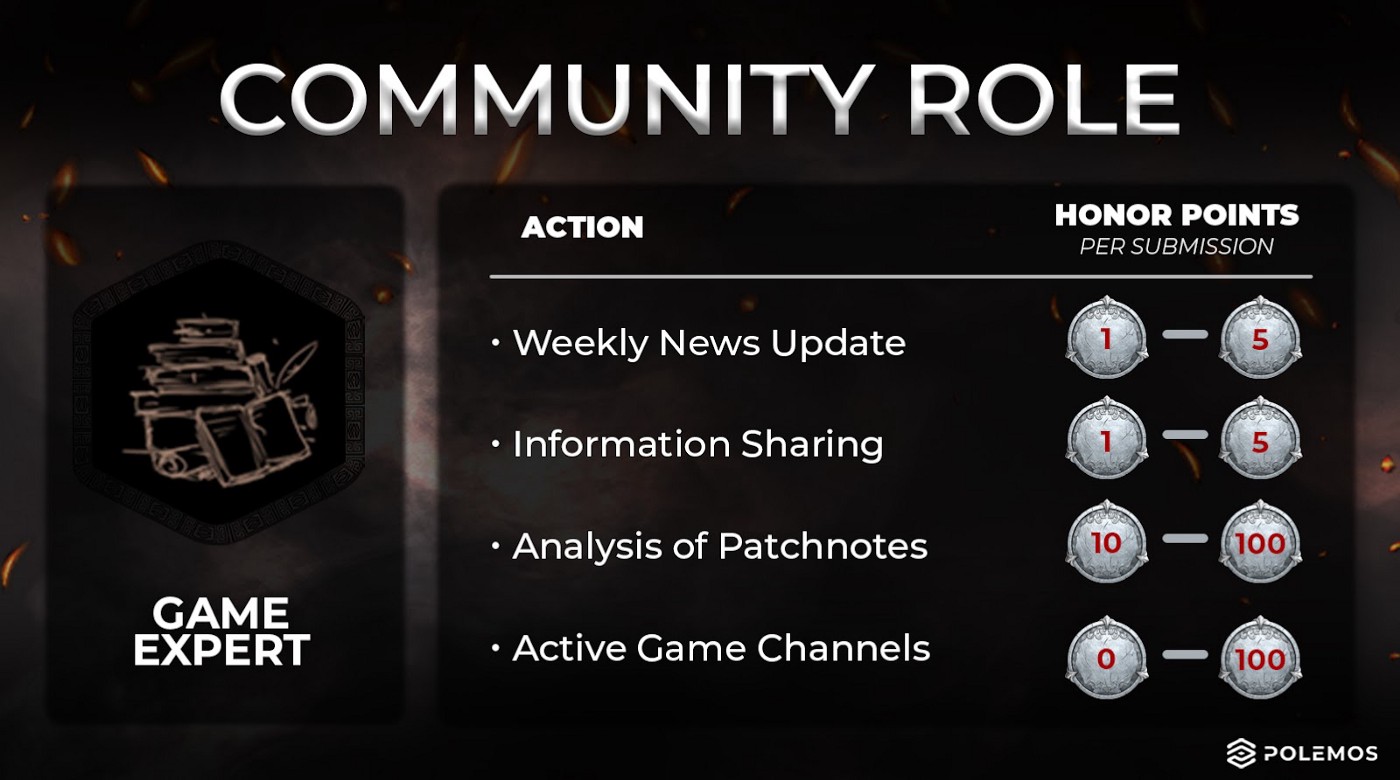 Researcher
This role is ideal for people who want to explore the Web3 space and find new games and opportunities.
Role responsibilities:
Research new crypto games
Submit research analysis reports
Help curate Polemos' master game list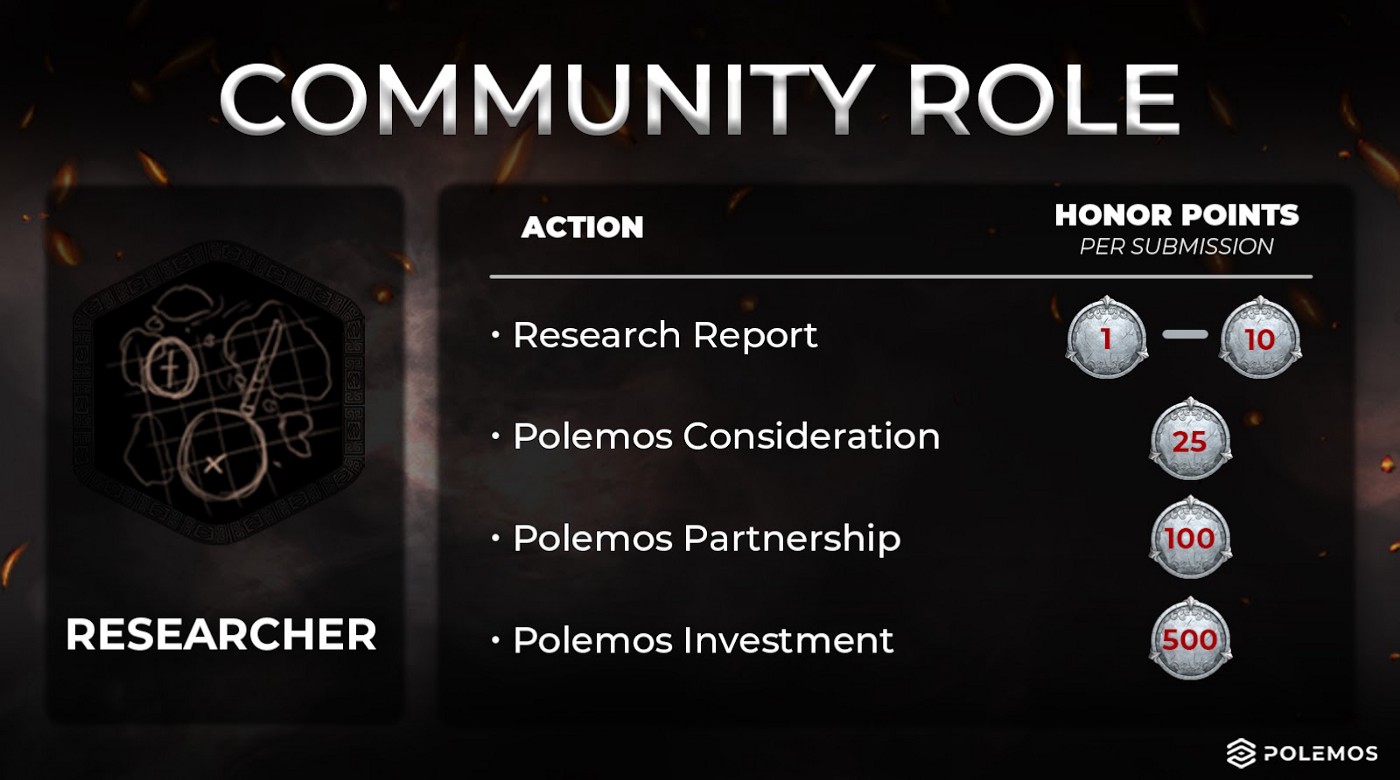 Mentor
Knowledgeable people who want to help newcomers and promote Polemos across the web3 space will thrive in this position.
Role responsibilities:
Help onboard new Polemos members
Promote Polemos in other Discord servers
Invite people to join the Polemos community
Exclusive Honor Points
Each role has different opportunities to contribute to the Polemos ecosystem and earn honor points. To be rewarded with honor points, each individual must continually be contributing to the betterment of the Polemos community within and/or above the parameters of their respective role. More ways to earn honor points will be added over time and we are open to feedback from the community.
Exclusive NFTs
Each role will get an exclusive NFT after 3 months of active contributions.
How to Join
Anyone and everyone is welcome to join, as long as they are a Hoplite or above. Fill out the form here to get started.
We look forward to building the Polemos community together!