Most DAOs focus on building a team of scholars and profit from existing games but provide little to no value to game developers wanting to enter the play to earn space.
Polemos is invested in increasing the overall market share of blockchain games. In fact, we aim to reposition how the world views the future of gaming, changing the narrative of play to earn to play and earn.
To expand the Metaverse, we proudly present the Polemos Partner Games Vault, where game developers profit from gameplay by receiving Partner Yield and gain genuine traffic from skilled players.
What is the Partner Games Vault?
The Partner Games Vault is designed to incentivize game developers to partner with Polemos by offering players additional in-game yield for their games in the form of Polemos Tokens. The exact games the DAO collaborates with are decided via Archon votes.
This in-game yield will only be paid out to players holding a Polemos Member Badge, making it appealing for developers to strike early investment deals with Polemos.
Partner Yield paid out to Polemos Members in-game will attract more players to Polemos because they can get free yield not available when playing solo. With players already available inside of our ecosystem to jumpstart a new game pool, the only thing lacking is assets, which can be offered by Polemos through our various Scholarship programs.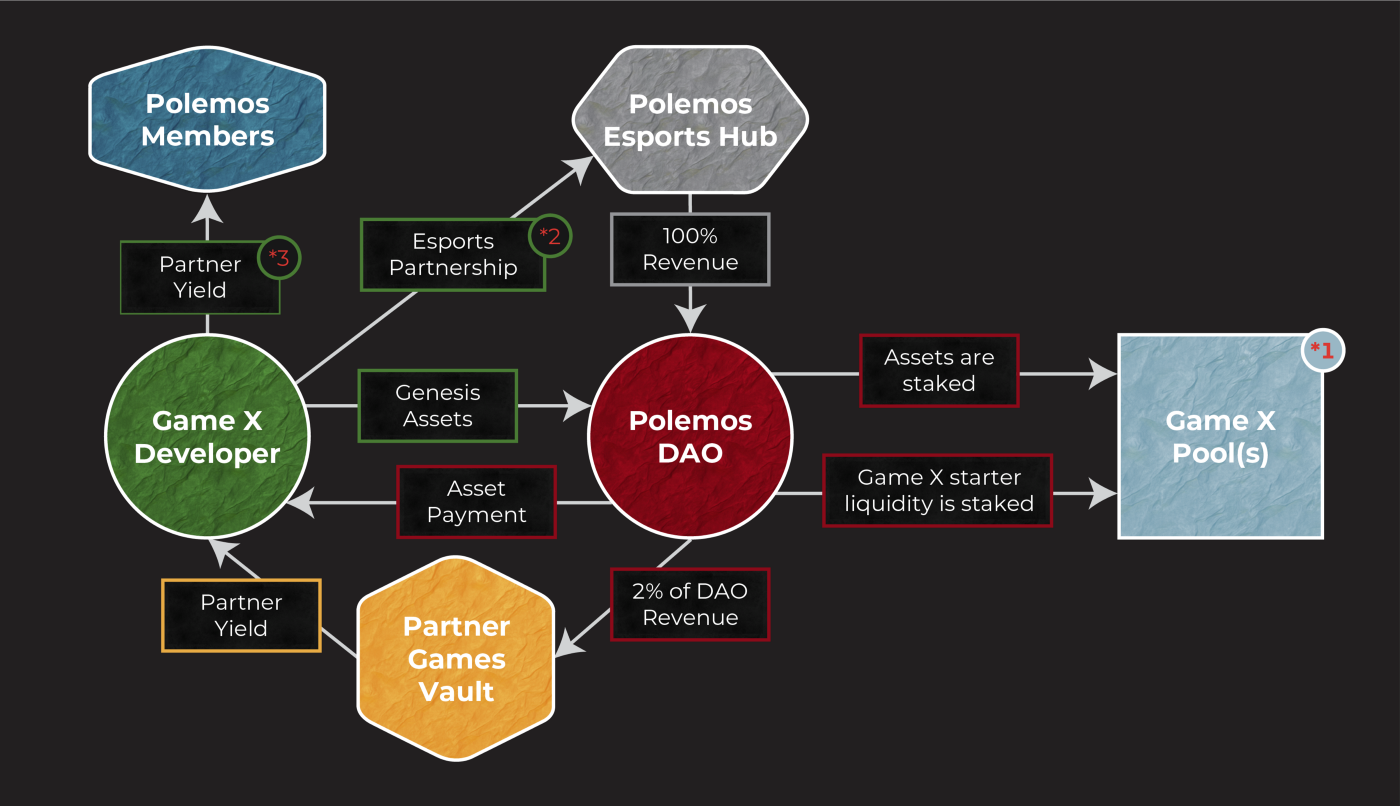 Tokens within the Partner Games Vault are not subject to any locking period. The vault is excluded from receiving Staking Yield but does receive a revenue share from the DAO overall.
What is the Benefit for Game Developers?
Marketing activities in the crypto and blockchain space can be expensive and, most importantly, restrictive. In certain countries, crypto games are classified as gambling and are blocked from television ads and traditional networks.
The only safe, effective way to promote games in the space right now is through peer-to-peer promotion. Partnering with a GameFi platform is the best way to obtain investment, elite players, and overall support to achieve any game developer's vision.
What Polemos can offer is unique — it's scalable, cost-effective, and works as a win-win model, meaning we only profit when the game profits.
By adding your game to the Polemos Games Partner Vault, our community will be incentivized by rewards when playing games that include PLMS as in-game yield. Partnering with Polemos means:
We promote your game regularly through our social channels and with advanced training courses within the Polemos University;
When $PLMS is stable and/or growing in value, game developers benefit from having our token as yield inside your game and can use it in LPs;
Our members enter your ecosystem and play regularly, which can be tracked through our data analytics platform;
We host regular tournaments around your game, and in the future, will incorporate partnered games into the Polemos Esports Hub for Metaverse Championships.
In addition to exposure, Polemos acquires foundation assets in new games to develop a sufficient asset base for Polemos members to commence gameplay and/or to undertake game testing. Typically, playing blockchain games can be expensive, especially with rising in-game asset prices and the requirement to own a gaming PC. Polemos aims to eliminate the financial barriers of blockchain gaming by offering asset rentals and future remote gaming services.
All of our strategies revolve around your game being successful. We don't take ownership of your game or play to earn mechanics. However, we do ensure there is incentive for Polemians to play.
Polemos approaches new games partnerships by following guidelines, such as choosing:
Games that are likely to offer a vibrant esports scene, and are of special interest given the large focus on esports within the protocol;
Games that offer the opportunity to get in early due to their greater potential for value to players and partners, especially ones that include genesis assets as well as esport rights;
Sustainable game and protocol economies, which are vital to reduce risks around the investment of certain funds, as well as the costs to set up asset / liquidity pools and fully integrate the game into our ecosystem.
We're confident the Partner Games Vault will bring dedicated players to games with smaller up-front costs than it would take to advertise your blockchain game in an oversaturated market.
Conclusion
The Partner Games Vault is only the first step towards successful games for all parties involved. Polemos will pioneer the industry by providing effective, win-win solutions to crypto gaming and its players.
We're committed to an equally beneficial, cost-effective partnership model to increase the reach and growth of the blockchain gaming ecosystem.