Polemos is excited to announce our partnership with MonkeyLeague. Bringing a popular sports game into the Play-to-Earn space in style, MonkeyLeague is breaking onto the scene as one of the most promising Solana blockchain offerings. This tactical turn-based soccer game offers in-depth features that will provide action-packed gameplay that is lacking in the blockchain gaming space.
To kick off our partnership, we're giving away a total of 10 Monkey NFTs!!
During our NFT Giveaway week, react in the Polemos Discord #giveaways channel for the chance to win a monkey of your own. We will give away one Monkey a day from Feb 2nd to Feb 7th, as well as a final grand prize giveaway of 4 Monkeys (a complete team!) on Feb 8th, 2022!
GAME ASSETS
Monkeys are the team's players, introduced by NFT assets owned by game players. Monkeys serve as an income generator, allowing a player to earn MonkeyBucks ($MBS) by winning games.
Monkey NFTs are not just awesome collectibles, they are the in-game assets that affect the ability to complete missions, and play and win matches.
Each Monkey NFT is generated with its own unique genetic composition, formulated from 32 traits, ranging from Common to Rare to Epic to Legendary. In addition, Genesis Monkey will give you access to special features once the game is released, such as breeding and Environment game mode.
The more rare a Monkey NFT is, the higher its "Alpha Factor", which increases the Monkey's ability to perform Special Moves.
In addition to Monkeys, the team plans to make other in-game objects or environments NFTs, such as stadiums or collectibles.
POLEMOS INVOLVEMENT
"Our community demands high production quality games and that's what Polemos and MonkeyLeague will deliver. This partnership represents an enduring strength that will be seen as a benchmark in the GameFi Metaverse. With strong focus on an easily adopted game that leads to fierce competition in esports, Polemos and MonkeyLeague will continue to deepen the relationship to give our communities what they desire most! Strong partnerships are the goal and this one is a true score!"

— John Clark, Head of Game Research at Polemos
Polemos wasn't monkeying around when investing in the seed round, garnering teams of monkeys to be used by soccer enthusiasts. MonkeyLeague offers a player base and game type that caters to upper echelon esports and regular tournaments. With Polemos able to construct a wealth of complete teams, we're sure to see some legends emerge.
"We know the team at Polemos well and are excited for what their guild will bring to the MonkeyLeague game ecosystem!"
— Oren Langberg, Head of Marketing at MonkeyLeague
WHAT IS MONKEYLEAGUE?
MonkeyLeague is the next-gen, esports, Play-to-Earn game that will empower players to Create, Play, Compete, and Earn. It combines high-production-value, multiplayer gaming with Solana blockchain, NFTs, and decentralized finance to deliver an exciting, turn-based, play-and-earn soccer game that's easy to learn yet hard to master.
Players build their ultimate MonkeyLeague team consisting of 4 Monkeys to fill the positions of the Striker, Midfielder, Defender, and Goalkeeper. Although each Monkey can play any position, each has inherent abilities that give them a higher Max Potential in a specific role.
Matches are played between two teams and consist of 12 rounds — 6 rounds per half. A round finishes when the two teams complete their turns. In a turn, each team can perform a number of actions; move a MonkeyPlayer to a different quadrant, pass the ball to a teammate, dribble to another quadrant, shoot at goal, or perform a special move (not in MVP).
For each action a player performs, his unique abilities are challenged by his opponent's actions. For example, when the Striker takes a shot on goal, that players' Accuracy stat is challenged by the goalkeeper's defensive stats. Similarly, when trying to dribble, a Striker's dribble stat is challenged by the opposing Midfielder's strength.
You can play the game in three main modes:
Player vs Environment: training mode to increase your Monkey's overall abilities
Player vs Player: the classic 4v4 match where each player controls his entire team
Team vs Team: a match in which each team is being controlled by multiple players
MONKEYBUCKS ($MBS)
MonkeyBucks is the in-game currency powering the game economy. Players get $MBS by buying it on DEXs, opening loot boxes, completing missions, winning matches, being a Spectator, or hosting games in your Stadiums.
The total supply for the token is 1,000,000,000, and is distributed according to the game's needs. MonkeyLeague had 54% of the token's supply allocated for Player Incentives, Rewards and supporting the Ecosystem. The full vesting schedule and technical details on $MBS distribution can be found in their Google Sheet Document.
MonkeyLeague's NFT assets (Monkeys) are owned by game players and serve as an income generator, allowing a player to earn MonkeyBucks ($MBS) by winning games. Monkey NFTs are not just awesome collectibles, they are the in-game assets that affect the ability to complete missions, and play and win matches.
In order to earn $MBS, Monkeys need to compete and win in games. When a game is finished, the in-game currency token is split and distributed among the winning team (75%), the Stadium owner (15%), and the spectators who have rooted for the winning team (10%).
WHY MONKEYLEAGUE?
System Architecture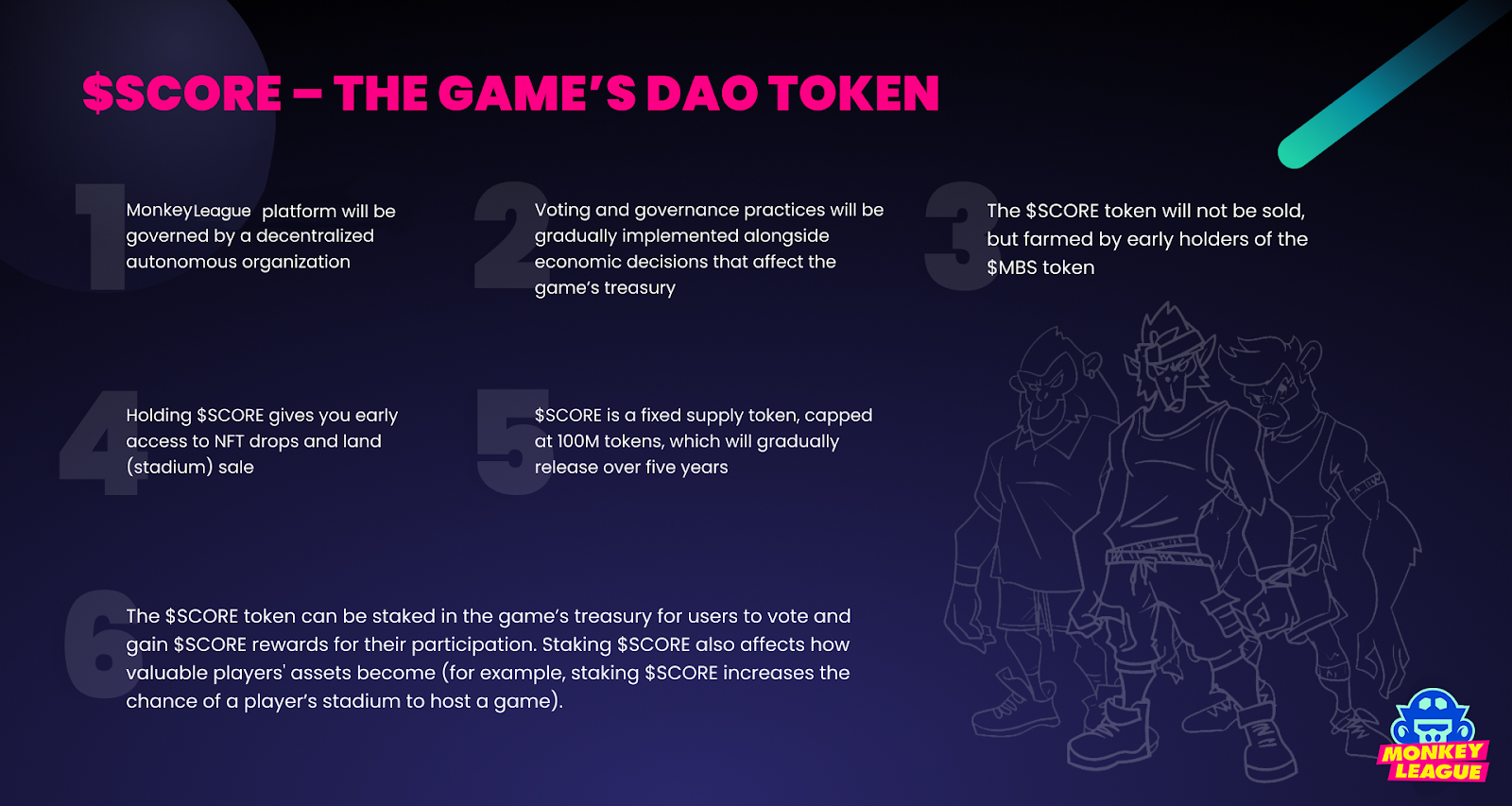 The engineering team at MonkeyLeague are blockchain experts, who were part of teams that built layer1 protocols, DeFi apps, and exchanges. Their game development team has produced some of the most successful games worldwide that generated billions of dollars in revenue over the past 15 years.
MonkeyLeague will be governed by a DAO, with an internal token: $SCORE. The token won't be publicly traded, but will serve as an incentive for the team to build up the assets and increase the utility and profitability of in-game mechanics.
Creative Art by World Class Studios
Leveraging MonkeyLeague's experience and network, they've employed the best studios to produce art. MonkeyLeague is working with the same studios that have created art for games like Call of Duty and Fall Guys and have worked with top-tier developers like Rovio, producers of Angry Birds.
Built On Unity
Unlike other Play-to-Earn games, MonkeyLeague is built on the Unity game engine which enables gameplay on all platforms, including on mobile.
Treasury
To build healthy liquidity for both tokens, MonkeyLeague will reward liquidity providers for $SCORE and $MBS various pairs.
MONKEYLEAGUE INFO
Website: https://www.monkeyleague.io/
Medium: https://medium.com/@MonkeyLeague
Twitter: https://twitter.com/TheMonkeyLeague
Telegram: https://t.me/monkeyleague_official
Discord: https://discord.com/invite/MonkeyLeague
–
Don't forget to join the Polemos Discord and check out our website for more updates on MonkeyLeague and other partnered games!