Polemos is excited to announce our partnership with Galaxy Fight Club & Comfy Ventures DAO.
Galaxy Fight Club is the first Cross-IP title, with PvP fighters originating from a variety of popular NFT collections. All NFTs will be able to participate in the gameplay in some way or another, and the team is committed to providing utility not only for their collection but also for all other projects wanting to enter the fight.
Comfy Ventures is our partner DAO, which holds more than 400 fighters and genesis weapons. We're working together to provide players to Comfy Ventures to utilize the wealth of in-game assets.
Polemos has been heavily involved with Galaxy Fight Club, helping the team by actively playing the beta and providing feedback.
Galaxy Fight Club is a Play to Earn game that is similar to Brawl Stars or Super Smash Bros in terms of gameplay but will allow for more game modes than we've ever seen available in a P2E title.
The official Polemos Partnership AMA with Galaxy Fight Club | Comfy Ventures on February 26 @ 17:00 UTC on Discord!https://www.youtube.com/embed/srJLQOSM4Dk
Polemos has hosted several AMAs with the GFC / Comfy Ventures teams and is building a lucrative and durable partnership with Galaxy Fight Club.
GAME ASSETS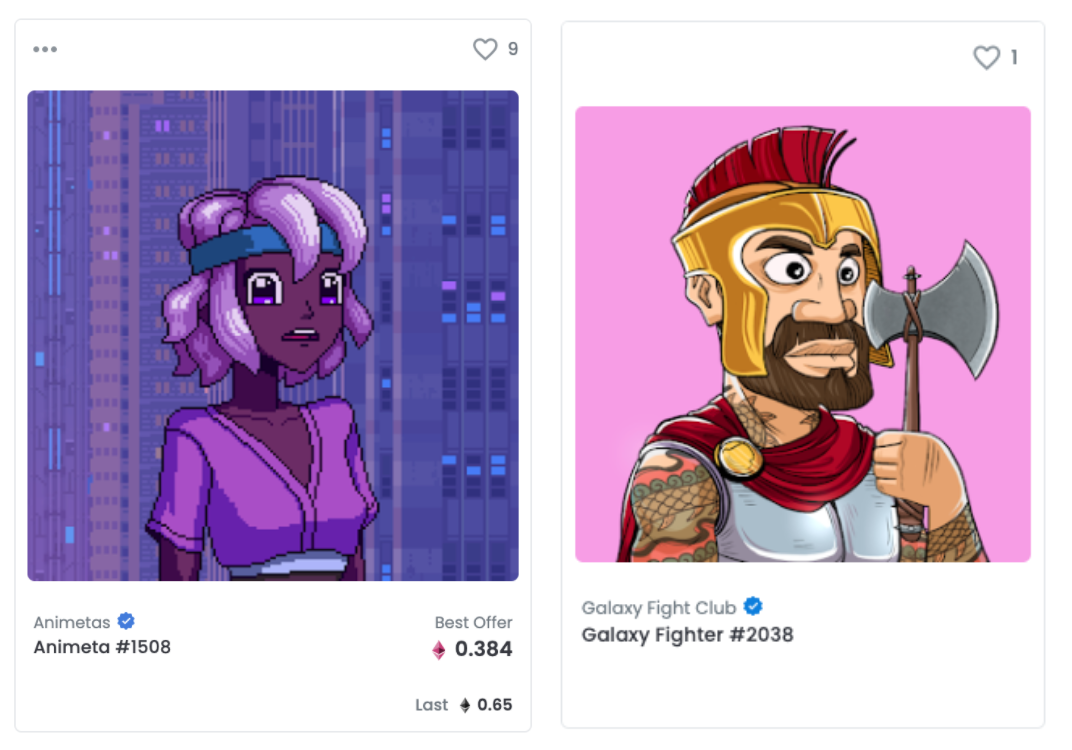 Galaxy Fight Club has three main assets: fighters, companions and weapons. All assets can be traded on the Ethereum Blockchain through the Polygon sidechain.
Fighters can be "Genesis" Galaxy Fighters or Galaxy Fighters. Genesis Galaxy Fighters are the original Fighters, and there are 10,129 Galaxy Fighters in the collection.
Genesis Galaxy Fighters hold additional perks, such as earning more $GCOIN Tokens, and having the ability to open Gold Loots. These fighters are also the only ones with Training capabilities (breeding).
These Galaxy fighters come from 7 different races; the human race alone will have 8 variants. As a general rule, the rarer the race of the fighter, the stronger it will be in battle. Gold Humans are the rarest variation, but they are not necessarily the strongest on the power scale because they are considered a Human race variant instead of a unique race.

Companions were airdropped to select holders who satisfied certain prerequisites in August, and they will be useful in combat within the upcoming game. You'll be able to bring them into battle with you to deliver additional damage to your opponents and absorb attacks aimed at your Fighters. However, Companions do not produce $GCOINs in the same way as the original Galaxy Fighters do.
Weapons are a key resource inside the game. First and foremost, they determine 50% of the strength of a fighter. The strength of the weapon correlates with its rarity and tier. Weapons are the raw ingredients needed to make weapons stronger; holders must "forge" their weapons in a process commonly known as breeding in the NFT GameFi space.
Lastly, weapons are essential for the training process, which will return an offspring that are generally stronger than Genesis Fighters.
The great variety of assets, combined with the extreme rarity system for each, will give Galaxy Fight Club more long-term sustainability and utility.
POLEMOS INVOLVEMENT
Polemos is deeply involved in Galaxy Fight Club through Comfy Ventures, a successful DAO investing in blockchain technology and Play to Earn games. Comfy Ventures develops and sustains documentation, projects and communities in the metaverse.
Through a partnership with them, Polemos is now funneling scholars to Comfy Ventures to play Galaxy Fight Club with their vast asset pool, currently consisting of over 400 fighters — almost 5% of the total Genesis NFT Collection. They also own 11+ death robots, the rarest and most powerful of all species.
Polemos secured 250+ scholarships with Comfy Ventures and is actively working towards filling all available spots to members around the world.
Additionally, Polemos is very active in Galaxy Fight Club's Discord Channel, which consists of more than 55k enthusiasts as of now, and helps the team with consultancy services providing tips for scalability in the future.
Galaxy Fight Club is one of the most active and popular upcoming games in the blockchain, and Polemos is excited to support this project through the development of professional esports teams, sponsored twitch streamers and several other initiatives aimed toward developing the best community of competitive players in the industry.
Our teams will participate in tournaments, have their own unique rewards, and fully participate in the cross-IP revolution.
Galaxy Fight Club embraces the cross-IP understanding that will bring blockchain gaming together in a united metaverse. It's a simple concept with huge implications and possibilities. Their highly adaptable platform is a strong indicator of their ability to evolve with Play To Earn gaming, providing lasting value to their ecosystem.
John Clark, Head of Game Research at Polemos
WHAT IS GALAXY FIGHT CLUB
Galaxy Fight Club is building a cross-IP PvP game for the NFT Universe. The Galaxy Fight Club (GFC) is more than simply an avatar project; it's a real-time PvP game that unites all of the different NFT collections onto a single platform, allowing you to 'log in' with a character asset that you've previously purchased and combat with them.
Referencing Matthew Ball, one of the core attributes of the Metaverse is that it offers unprecedented interoperability of digital items/assets.
[…] Offer unprecedented interoperability of data, digital items/assets, content, and so on across each of these experiences — your "Counter-Strike" gun skin, for example, could also be used to decorate a gun in Fortnite, or be gifted to a friend on/through Facebook. Similarly, a car designed for Rocket League (or even for Porsche's website) could be brought over to work in Roblox. Today, the digital world basically acts as though it were a mall where every store used its own currency, required proprietary ID cards, had proprietary units of measurement for things like shoes or calories, and different dress codes, etc.
Matthew Ball
The core principles of the game are interoperability, a great infrastructure that combines Off and On-Chain actions and cooperation within the blockchain community.
The game will be a 3D, hyper-casual style fighting game that is similar to Brawl Stars and Super Smash Bros. Fighters will be able to engage in melee or ranged attacks depending on the weapon selected. The movement system allows fighters to move up, down, left and right, and engage with obstacles and objects scattered across the map.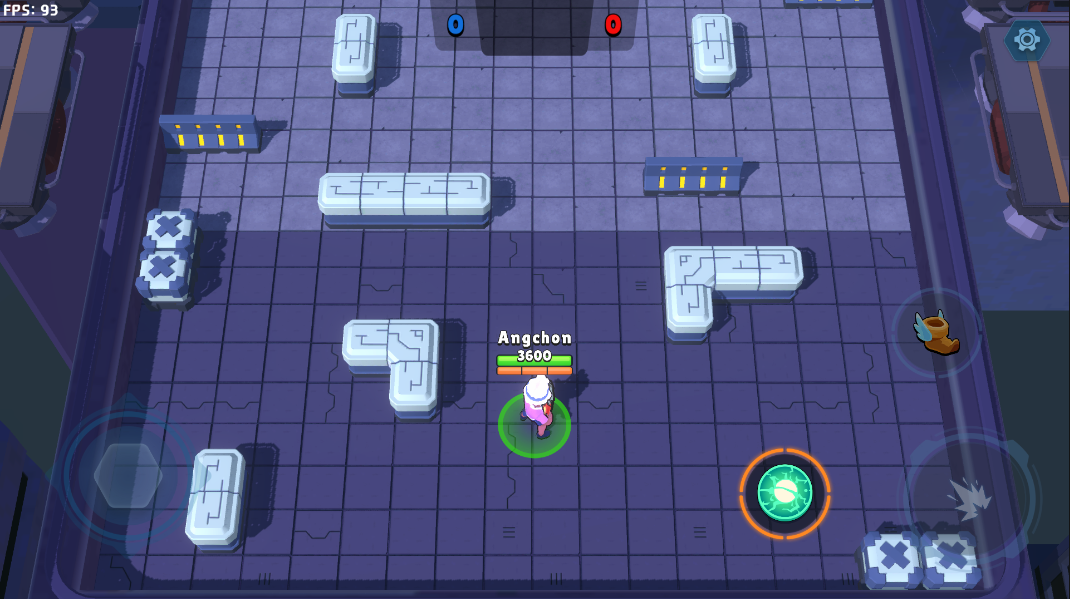 The game will offer four main play modes:
3v3 ⇨ You can play in 3 vs. 3 mode whether you are playing as a Genesis Galaxy Fighter or as an avatar from another collection, or even if you are a F2P player with no avatar. The only impact is the type of loot box keys you can receive as rewards at the end of a round.
Tournament ⇨ Team tournaments are in 3v3 format, and instead of finding teammates through online matchmaking, you will only be able to enter a tournament with pre-made teams. Only Galaxy Fighters can enter tournaments (Genesis or 2nd generation).
1v1 ⇨ In this classic deathmatch mode, players will enter into the battle arena, and the player who accumulates 10 points (1 kill = 1 point) first will win the match. There are no rewards to this mode.
Battle Royale ⇨ In this classic Battle Royale mode, 10 players join the same battle arena and the last man standing wins. A death ring will appear on the borders of the map to slowly shrink the area in which fighters can battle each other. The rewards for the Battle Royale mode are to be determined at this time.
Two main factors determine the outcome of a battle: the strength of your fighter and your ability. The team is adamant about stats relying on the latter more than the first.
Three factors determine the strength of a fighter: the Race (25%), Armour (25%), and Weapon (50%). Each fighter comes with a standard Weapon, but you're encouraged to forge stronger ones or equip weapons that better fit the environment and chosen gameplay mode.
Galaxy Fight Club employs a convoluted and fairly advanced leveling system. Your NFTs AND your Avatar will level up. When your NFT levels up, they use experience. When your Avatar levels up, they increase their ranking.
Ranking is a system that sorts players into different tiers based on the number of trophies they have accumulated. Trophies are awarded to a player's account when a match is won and deducted from a player's account when a match is lost. Trophies are assigned to an account (wallet), not an individual NFT.
When your NFT wins games, they gain experience. Experience points are not deducted for losses, and therefore, an NFT's level will never decrease. Leveling up an NFT fighter improves its combat strength (stats), increasing the likelihood of winning games. The leveling system applies to NFT fighters from the GFC Universe, as well as NFT fighters from other projects and collections.
$GCOIN TOKENS
The in-game token is trading with the ticker symbol $GFC on DEXs (Quickswap) and trading with a ticker symbol $GCOIN on CEXs (Gate.io, MEXC and others).
$GCOINs are required for a variety of in-game activities, including unlocking treasure boxes using keys obtained via combat, forging/upgrading weapons and training new Gen 2 fighters. As a result, it's built to capture the value of the ecosystem's growth as the game's user population grows and the frequency with which these in-game actions occur grows.
The coin has a 150M supply limit, and coins will be distributed over a 3-year span.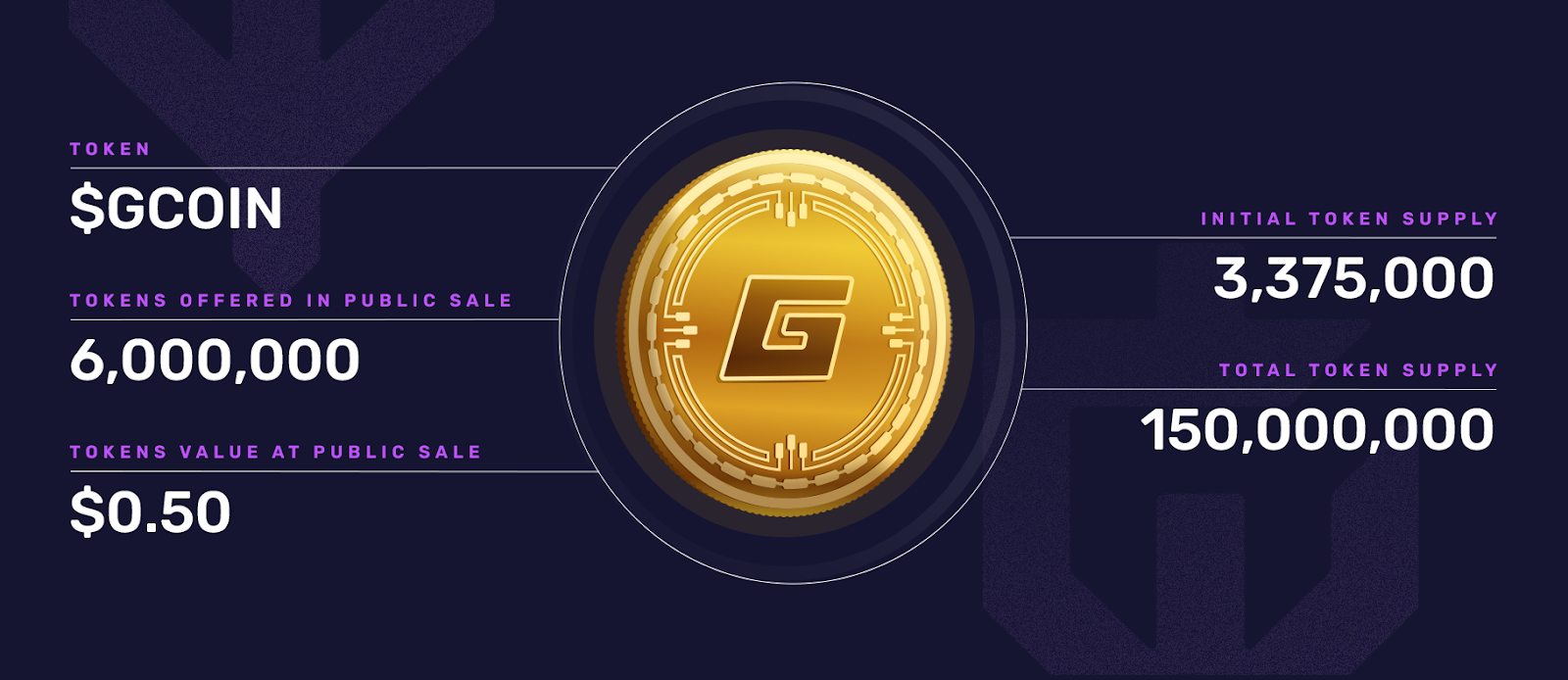 40% of all in-game tokens are distributed back to the holders of Genesis Galaxy Fighters. Both the advisors and team members have a 6-month lockup, as well as a 36-months vest after the lockup. which ensures interests are aligned.
At the time of writing, $GCOIN fell a bit from the original IDO price of $0.50, sitting at $0.40 — but it's strongly gaining terrain and increasing in value daily. The release of the game is near and beta testers are finalizing their opinions of the game.
With $GCOIN being the main coin of the game, acquiring $GCOIN will also be fundamental to profit from playing Galaxy Fight Club.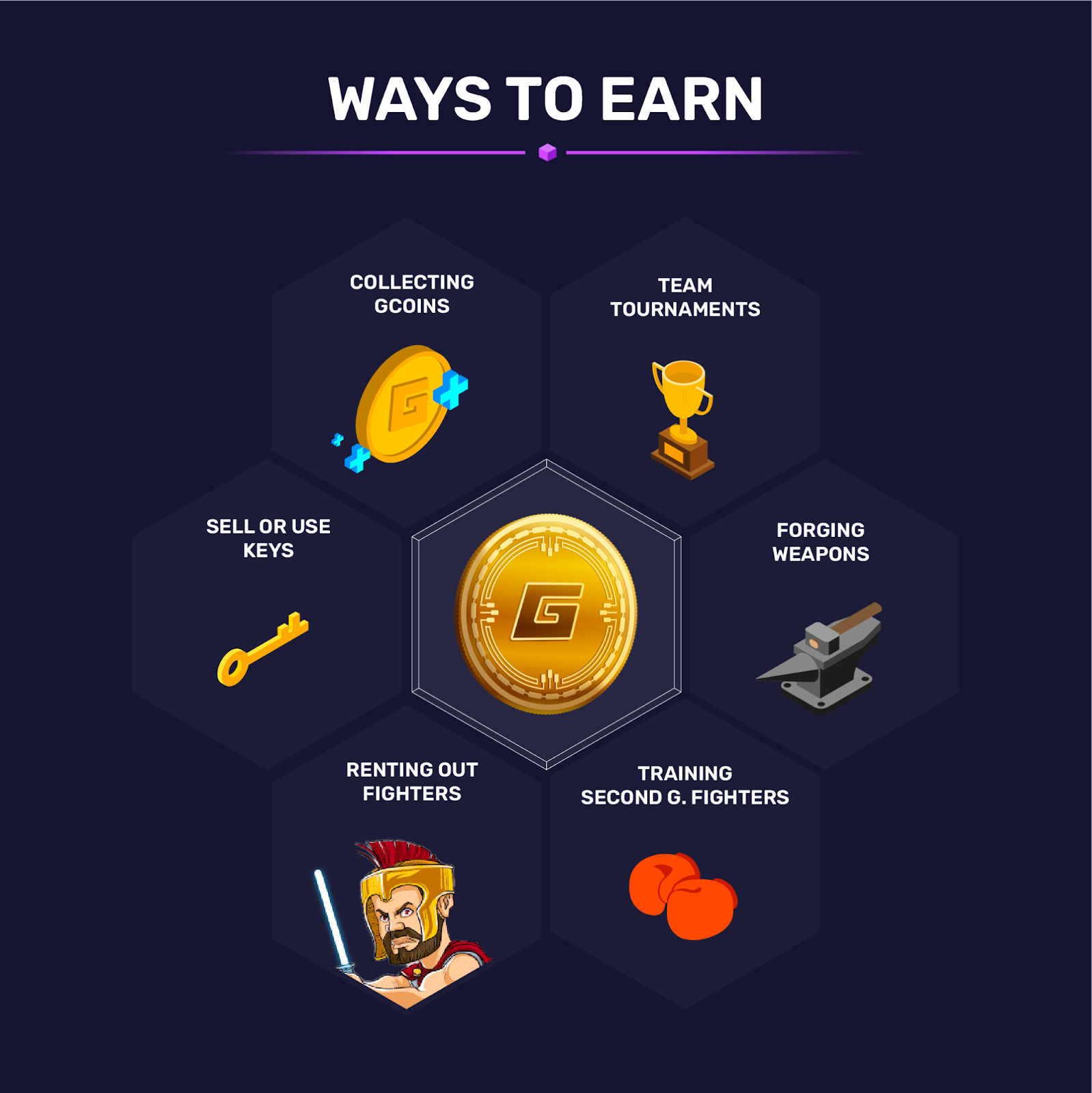 Fighters can earn from 5 to 15 $GCOIN per day according to their rarity.
Another way to earn money inside the game is through getting loot box key drops by winning games. There are 3 different types of keys and each has a daily limit/cap. These keys can be combined with $GCOIN to open loot boxes to get different items or can be sold on the secondary market as independent NFTs for others who want to open them instead.
Each key has a certain requirement to be dropped.
Gold keys require Playing with Gen 1 or 2 Galaxy Fighters OR Equipped with a Genesis Weapon if playing with a non-GFC character;
Silver keys can be acquired playing with the free base character;
Partner keys can only be found playing with a partnered collection.
WHY GALAXY FIGHT CLUB?
Galaxy Fight Club is an innovative IP with ambitious goals for the future. The team behind GFC has extensive experience developing games in the metaverse industry, making them the ideal partner to shoot for the moon with!
Their IDO had great success and the floor price for their Galaxy Fighters on Open Sea is 0.49 ETH with a total volume traded of 7.1k ETH (equivalent to over $18M). They paved the way for success by partnering with iconic NFT collections, such as Bored Apes, with a current floor price of 91 ETH.
Being one of the first games to be released in 2022 has its benefits, and we're sure their Free To Play model will facilitate adoption to a higher degree than other titles wanting to build on this mechanic. We're confident that players with free fighters will eventually open loots, get addicted to the game by participating in tournaments and community-hosted events, and participate in the blockchain economy as well.
The team behind GFC committed to an enterprise-level optimization solution, allowing them to operate all stats, calculations, and in-game mechanics off-chain, and only record the results of fights and NFT value on-chain. This will allow for more simultaneous battles and less instability in the servers (aka goodbye Axie Infinity).
The project is ambitious and has excellent backing, including Aminoca, one of the biggest funders in the crypto-blockchain niche.
We have nothing but good opinions of Galaxy Fight Club, and we're excited to see how the game and the immense ecosystem of collateral NFT collections, items and second-layer NFTs will develop.
Galaxy Fight Club Info
Website: https://galaxyfightclub.com
Twitter: https://twitter.com/GalaxyFight_NFT
Telegram: https://t.me/galaxyfightclub_nft
Discord: https://discord.com/invite/kWJZJAYg2C
–
Comfy Ventures Info
Website: https://www.comfyventures.com/
Twitter: https://twitter.com/comfyventures
–
Don't forget to join the Polemos Discord and check out our website for more updates on Galaxy Fight Club and other partnered games! Special thanks to Comfy Ventures for partnering with us on this game!