As we bid adieu to May, we give a warm welcome to June with an upcoming theme week brimming with excitement. Polemos is thrilled to extend our hand across the metaverse and announce our partnership with Try Hards!
We love our loyal community and believe they deserve only the best. The purpose of this splendid collaboration is to illuminate a talented team for our community to enjoy and explore all that they have to offer.
Battle. Conquer. Earn. Repeat.
Tryhards is the first-ever top-down shooter to grace the GameFi ecosystem. A motley crew of Fanatics from planets all over the Tryhards metaverse come to battle it out on Planet X. Earn precious crystals and fight your way to the top of the leaderboard in this high-octane action extravaganza!
Tryhards: Play Win Earn
Everything in Tryhards takes place on Planet X. Fanatics hailing from different planets come here to fight, earn precious crystals and get themselves a top spot on the Leaderboard. The more your Fanatics fight, the more you will earn.
Tryhards Fanatics
Fanatics are Tryhards' protagonists. Unique warriors belonging to the different Factions which survived the Satoshi Massacre. Fanatics represent their Factions in the Arena, fighting opponents with their weapons. Different weapons in Tryhards offer special advantages in different combat situations. All Fanatics and Weapons come in different levels of quality, ranging from Normal to Legendary.
Tryhards Crystals
Natives of Planet X, Survivors are the descendants of humans who survived the Technological Revolutions started by Satoshi. The resulting Satoshi Massacre drove them to leave their home planet and settle on Esperanza, hoping to rebuild society as they had once known it. More than a 1000 years later, they remain committed to fulfilling the hopes of their pioneering ancestors, and one day return to their true home, Planet X.
Gaining Power
The total Power of your Universe determines your Staking Rewards. Your Power level depends on the amount and quality of your Fanatics and your Weapons. More Fanatics in your crew and more Weapons in your arsenal will grant you greater Power, which will also increase as you level them up. Recruit all Fanatics of one Faction at the same quality level to earn your Universe a Power bonus!
All of this is just a tantalizing teaser for all that Tryhards has to offer. To celebrate this collaboration, we are hosting a grand giveaway!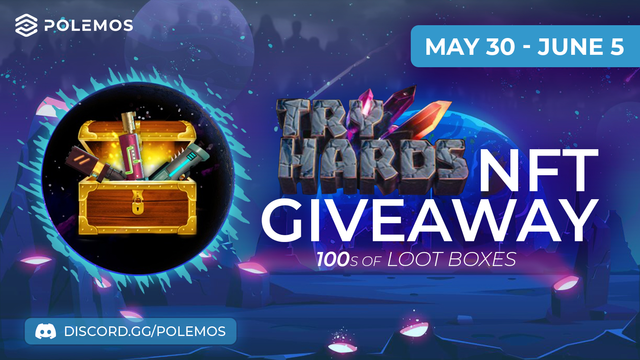 Polemos Presents: Tryhards NFT Giveaway
Here's what you need to know:
200 Tryhards loot boxes are looking for new homes. Word on the street is they like crypto wallets — quite possibly yours.
100 winners will receive 2 loot boxes each: 1 Fanatic loot box and 1 Weapon loot box.
5 OG winners will be selected, 5 Front Line, 10 Phalanx, 20 Hoplites, and 25 Discord members from the Polemos Giveaway Bot.
A total of 10 winners will be selected during some of the AMAs this week, 5 from active Discord participation, 5 from Trivia, and 5 for contributions to our content creation.
10 winners will also be selected from Twitter retweets.
Now that your appetite for winning is piqued, here's what Polemos x Tryhards has in store for you this week. Make sure you mark your calendars because we know you want to catch them all. Don't let fear of missing out plague you—don't miss out—that is the only antidote.
On Tuesday, May 31 at 15:00 UTC, we have the Polemos X Tryhards AMA in our Discord. Tune in as we ask Thomas all our pressing questions on their project. Bring your own questions; they are highly encouraged! We will also be providing the details of our Twitter Giveaway so if you want to be one of the ten, make sure to have your listening caps on.
On Wednesday, June 1 at 15:00 UTC, prove your smarty pants status with our Tryhards Trivia in Discord!
Then on Friday, June 3 at 18:00 UTC, Tryhards invites us into their domain by hosting Polemos in their Discord for an AMA. A whisper of a Tryhards land sale might be blowing in the wind…you'll have to tune in to find out for certain.
Sunday, June 5 at 12:00 UTC, we will announce the Giveaway winners — a momentous occasion undoubtedly worth waiting for!
With so much on the horizon this week, make sure to clear your schedule, plot your winning strategy, and play on.
Follow Tryhards
Don't forget to join the Polemos Discord!