This week, the massive business of gaming was exposed when blocked-out segments of documents filed in the Microsoft/Activision Blizzard merger case showed through the redaction ink.
Although the mistake has been widely reported as a "Sharpie error", looking at the actual documents I doubt the redactions were made with a pen. It's also possible there was no error at all, but that the supposedly sloppy job was a little present from Microsoft to Sony.
We'll deal with that later, first I want to talk about the actual numbers revealed.
Context: Microsoft wants to acquire Activision Blizzard for a whopping $69b in the biggest gaming deal ever. That would put Xbox and Microsoft in a better position to seriously challenge Sony and Nintendo. The deal was denied in the UK over anti-competitive concerns, approved in the EU, and now faces its do-or-die moment in the US courts. The US competition watchdog the FTC is opposing the acquisition, with Sony on board, and lots of normally private details about the game business are being made public.
Which brings us to the redacted numbers. The blockbuster game Horizon Forbidden West, launched for Playstation exclusively, took 5 years, 300 people and $212m to make. That puts it on a level with big Hollywood movies. The Marvel movies, for example, all sit around the $250m mark, and take around four years to make. Horizon Forbidden West has sold at least 8.4m copies, and we can assume it's already turned a considerable profit.
Another Sony game, The Last Of Us Part II, cost even more, at $220m.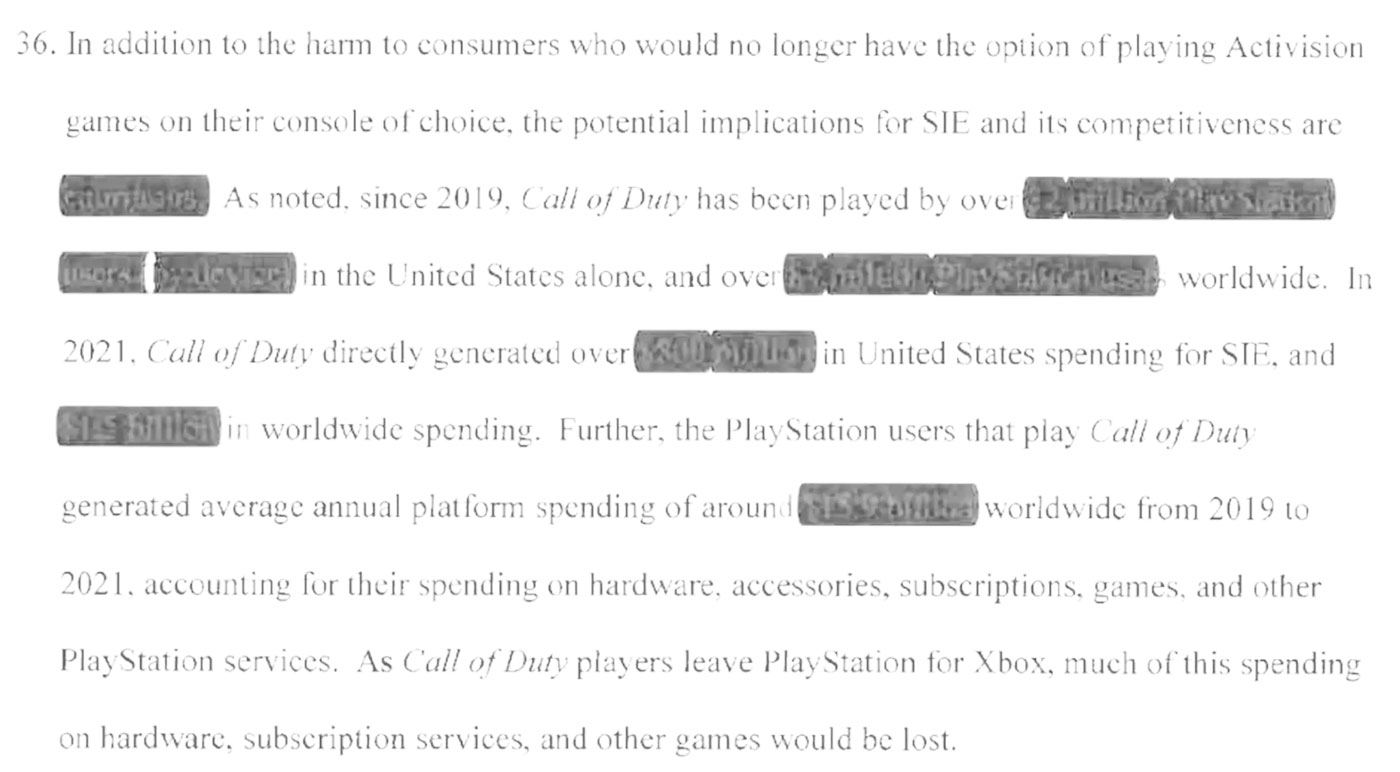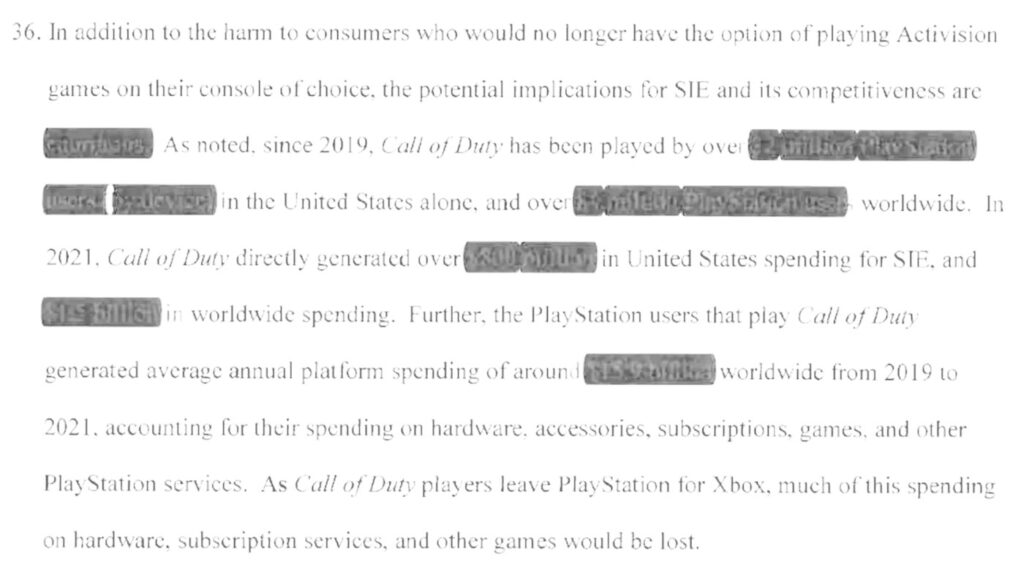 There is also some interesting information in the documents about just how crucial the Call Of Duty games are to Playstation. Call Of Duty is central to the case because it's an Activision Blizzard franchise and Sony is arguing that Microsoft could make it Xbox-exclusive, hurting its business and therefore the competitive health of the industry.
The redaction makes these numbers hard to read, but here is my read on one sentence:
"Further, the PlayStation users that play Call Of Duty generated average annual platform spending of around $13.9 billion worldwide from 2019 to 2021, accounting for their spending on hardware, accessories, subscriptions, games and other PlayStation services."
That's a lot of money. It's also suspect, because direct sales of Call Of Duty were just $1.5b wordwide in 2021, according to the same document. Sony is painting the worst possible picture here of the impact of losing Call Of Duty by rolling three years together and including every bit of revenue from anyone who ever touched the games.
On the actual "Sharpie error": it does look like some kind of manually applied blocking, because the beginning and ending marks are irregular, but at the same time the top and bottom of the redactions are perfectly straight and aligned.
These documents came from Sony, but were entered into the court system by Microsoft. It's not clear who was responsible for the "sloppy" redaction.
Interview with a professional
I spoke to gaming YouTuber Volkin as part of the Key Characters podcast. Volkin is a nice, engaging guy, and open about how he became a professional content creator. As with all the true enthusiasts, he found games early (primary school), but didn't go professional immediately. First he became an electrician in Melbourne. He told me about getting up at 4:30am so he could create videos about gacha games, anime-inspired titles with prize boxes. He found his audience, zeroed in on what he could provide of value to them, and has grown his subscribers to more than 120k on two channels.
Couple of interesting observations:
Volkin (real name Kevin) won't play any game he can't become an expert in. He only creates videos for games he has mastered, and can't afford to waste hours on other games. His business may be games, but it's no longer pure fun (naturally).
He gravitated towards mobile games because he could play them when he was looking after his young son. They also require less time investment to achieve a high standard of play.
Look out for that interview in the podcast next week. As you may have guessed, with more than 100,000 subscribers, Volkin is no longer an electrician.
Fafnir won't die
Final Fantasy XVI is a big game, with big fights, big cut scenes and big emotions. Check out Caveman's battle with an enormous armadillo and the explosion conclusion in this video on the Polemos channel.
This is a copy of the Polemos weekly newsletter. Sign up for free here.