Dear subscribers,
The world of blockchain gaming is thick with news.
Let me give you an insight into how the Pharos team works: every weekday, managing editor Emma Chamberlain, game experts Cavan "Caveman" Roe and Dan "Mogglin" Allday and myself meet to kick around stories. It's early morning for me, mid-morning for Emma, and late night for Caveman and Mogglin, because we're all in different parts of the world. Four time zones, four nationalities, one language.
Each participant offers up story ideas and we consider them.
The discussion is never short or dull. We have a spreadsheet tracking 386 games, most in development. About 10 percent of them are worth a second look.
This week we've had incredible-looking games, incredible-playing games, big developments and big characters.
First shots fired
Blockchain games share one big problem: at some point, they are going to have to ask players to sign in with wallets. For most people, wallets are little browser plug-ins that keep crypto assets safe.
Connecting a wallet to a game requires high levels of trust if there's anything valuable in there, and the process is awkward. To take logging into our own Polemos University as an example: five separate steps, including password entry and clicking a button that says "sign". That's scary.
Some games hit players straight up, some boil the frog slowly, but in the end if you want the benefits of blockchain, you have to secure that line to the outside world.
This week, blockchain gaming infrastructure company Immutable X announced a system that promises to reduce wallet sign-in to a single click.
Immutable are not the only people alive to this prize. As Sam Peurifoy says in the piece I wrote about Immutable Passport, "2023 is likely to kick off what will later be known as the 'Wallet Wars".
Peurifoy, who runs a game studio and is a partner at Hivemind Capital, has agreed to expand on his thinking on the Wallet Wars in coming weeks. Stand by. READ
Serious work commitment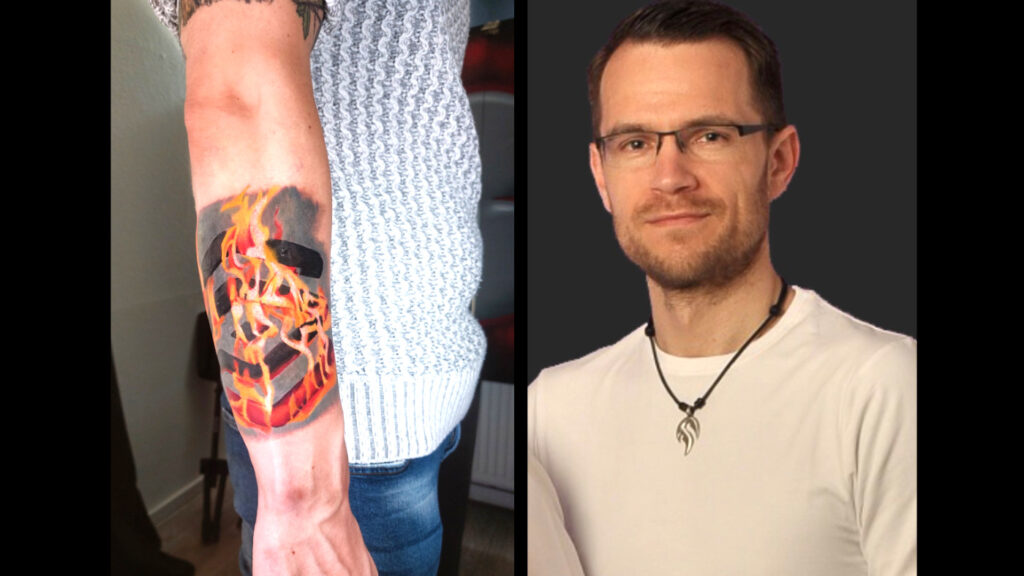 I think it's important for Pharos to stay focussed on people. Nothing happens in the world of blockchain tech that doesn't have at its root the desires or aversions of a real live human.
To that end, I interviewed Polemos co-CEO Sacha Zehe about the whopping Polemos tattoo he's sporting on his right forearm. It was fun. READ
The Dookey Files
The basic story is this: Bored Ape NFT creators Yuga Labs scored a major coup when a high-profile Fortnite pro posted a high score in its simple browser-based game. It's a coup because the web3 gaming community is small (estimated by one industry exec as "less than a million daily actives"), and this serves as marketing to the mainstream.
The more interesting story is what incentivized the gamer – Kyle "Mongraal" Jackson – to play the game and tweet about it. Jackson says he was playing with his own Sewer Pass – the NFT required to play – but he didn't, to my knowledge, say where he had obtained the pass or whether he was being paid by Yuga to play. READ
Two wild games
Caveman loved Wild Card. This game, which he described as an RTS MOBA (real time strategy multiplayer online battle arena), distinguished itself in closed testing as being fun to play. Perhaps more significant, from Caveman's point of view, was that Playful, the studio behind the game, have made a game that is fun to watch. Very smart. READ
I will be interviewing Paul and Katy Bettner, Playful's founders, at the end of the month. They will feature in the Key Characters podcast.
Wilder World is an environment ("metaverse"), rather than a straightforward game, where most objects are NFTs. It looks stunning. Unreal Engine 5 in full flight.
My personal favourite from the gameplay video, which has had more than 500k views on YouTube in a day: the late afternoon sun streaming in through the apartment window. READ
It's not hard to imagine more than a million people spending time in these worlds every day.
See you in the future,
Hal