Polemos NFT Giveaway: Win a Team of 4 MonkeyLeague Monkey NFTs
Another Monkey NFT Giveaway For You
Over the next two weeks, Polemos will be hosting another giveaway for a complete MonkeyLeague team of 4 Monkey NFTs for free!
From breeding to matchmaking, one lucky winner will have everything necessary to score big in the upcoming 4v4 turn-based, Play-to-Earn soccer game!
The NFT giveaway starts March 28, 2022 @ 20:00 UTC!
How to Enter
Entering our giveaway is simple — be a Polemosian and reap the rewards!
To enter, you must be a member of the Polemos Discord server by the end of our qualification period on April 4, 2022 @ 20:00 UTC. Look for the Polemos Giveaway Bot to appear in our member list on April 4, 2022 @ 20:00 UTC. Then, you have until April 11, 2022 @ 20:00 UTC to message our bot with your SOL wallet address.
Our bot will draw one winner to receive 4 Monkey NFTs on April 11, 2022 @ 21:00 UTC, so be sure to see if you've won in the Announcements channel!
Follow our #community-engagement channel for daily events and news throughout our giveaway! Don't forget to join the MonkeyLeague Discord to participate in the Learn and Earn events every Friday and stay informed on releases! They will be leaking information about the upcoming in-game Store Launch and Breeding season soon!
We're beyond proud of our growing community and we're honored to provide opportunities to win free, usable NFTs in Play to Earn games. Thanks for your continued support and for helping us create the best GameFi platform that Web3 has to offer!
About
MonkeyLeague
MonkeyLeague is the next-gen esports game on the metaverse that enables players to Play, Compete, and Earn.
MonkeyLeague combines high-production-value, multiplayer gaming with Solana blockchain, NFTs, and decentralized finance to deliver an exciting, turn-based, play-and-earn soccer game that's easy to learn yet hard to master.
About Polemos
Polemos is a global GameFi platform that is the first decentralized combination of its own marketplace, educational hub, and community-centric gaming guild. Our overarching vision is to improve employment and education worldwide by developing a platform that focuses on Metaverse Adoption, Community Engagement and Esports Dominance.
Polemos' mission is to become one of the world's leading Decentralized Autonomous Organizations (DAO) and bring tens of millions of global digital Asset Providers and Gamers together inside a unified GameFi ecosystem. By bridging esports and DeFi communities, we will revolutionize gaming and create unique Play To Earn opportunities unlike anything ever seen before!
Follow Polemos on Social Media
Discord | Twitter | Youtube | Twitch | LinkedIn | Instagram | Reddit
I keep seeing talks about scholars in #PlayToEarn and don't get me wrong, @polemos_io will have them too, but we shouldn't forget the vast potential in #GameFi for other types of players. The space needs to cater to all to become what it could be. Fun games first, earning second.

— Sascha Zehe (@fireblade_storm) February 14, 2022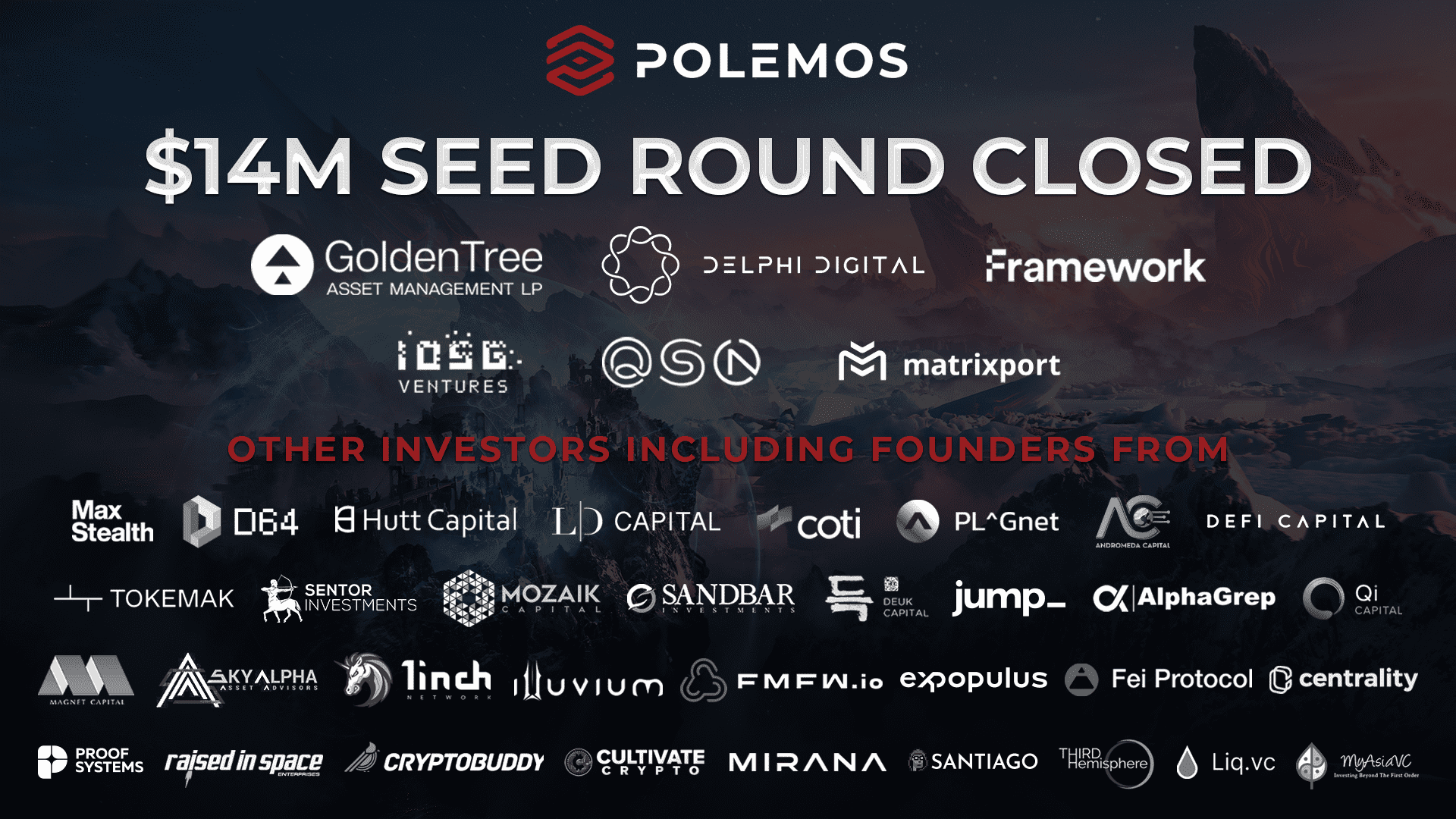 GameFi Platform Polemos Secures $14M Seed Round | Blockworks Published by Blockworks[dss_post_featured_image...
read more