Although the most recent crash now has crypto in a bear market, the Polemos vision is stronger than ever. Our growth continues with our strategic and contracted partners, as well rapid expansion within our team. Polemos now has almost fifty incredibly talented individuals giving their all to ensure our project's success.
Shaking Hands Across the GameFi Metaverse
As our community grows, so do our incredible partnerships. June was positively brimming with partner theme week events and exciting giveaways.
At the beginning of June, we gave away 3 Polemos t-shirts to elevate everyone's excitement for our upcoming merch store! The following week, our partnership with AAA heavyweights, Shrapnel, was officially announced. There has been so much hype around this FPS created by some of the greatest talent in the industry that we had to celebrate it with a fantastic giveaway! To honor our new partnership, we gave away 15 Shrapnel Operators.
We kept the momentum going all month long, proudly announcing our partnership with Infoluvial, the one-stop shop for everything Illuvium. As a token of our enthusiasm, we gave away 5 Polemos x Infoluvial shirts with Infoluvial's original logo. Why is this design so special? Because it symbolizes the beginning of Infoluvial and where they are heading now as they join forces with both Polemos and Illuvium. We love to see our GameFi community flourishing!
As June came to a close, Polemos sealed the deal with our partnership with The Harvest, a uniquely customizable hero-shooter with MOBA elements. There was so much excitement surrounding this soon-to-be-classic, we had to end the month with a high-octane The Harvest Game Tournament! To sweeten the deal, we gave the community an opportunity to participate in the tournament for the chance to win $1,000 USDC and NFT Starter Packs.
Like Our Presence in the Metaverse, Our Team is Growing
Polemos is growing fast, careening towards the pinnacle of the GameFi Metaverse. We are excited to announce the newest members of our dream team. Please welcome Cavan (Esports Manager), Silke (Instructional Designer), Stephan (Game Specialist), and Sushil (Platform Quality Assurance Engineer). On behalf of our entire team, we can't wait to see all that we accomplish together!
Something Big is Bubbling in the Forge…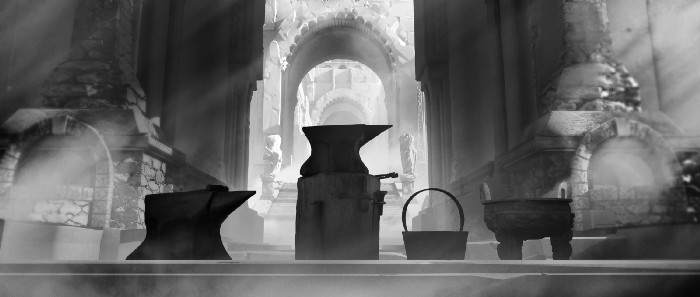 Progress is being made in our Forge, with a soft launch planned within the next few weeks. The team is burning the midnight oil producing fantastic content for this exciting reveal. At the beginning of June, we did a walkthrough of Polemos University thus far. In case you missed it — or just want to enjoy it again — take a look at this sneak peek for our educational masterpiece.
Our very first user testing session started this month with a select few individuals from our community. We could elaborate more, but the suspense is well worth the wait. More testing will be done with Polemos members throughout the next few months, so keep an eye out for updates.
To make things easier for everyone, all scholarship programs will now be managed in the forge, so look no further than right here for all scholarship and breeding updates! Fancy Birds and Legends of Venari scholarships will be managed in the Forge soon.
June brought us an excellent uptick in breeding. We bred 156 new Birds in June, for a total of 644 Birds. Furthermore we started breeding for Apeiron this month and have already bred 6 new Planets. Our collection of Planets will continue to expand to prepare for the game release later this year.
As our NFT pool grows, so does our group of scholars! We now have 137 Artisans in the Fancy Birds Program. A new Seeds mechanic has been introduced, but the Artisan split remains the same. Note that we are evaluating the number of tasks actually completed by the Artisans. To learn more about Polemos scholarships, check out our article explaining the Artisan Program.
A Look Behind the Scenes
Market changes and discoveries throughout the past nine months have been a transformative and educational experience for us all. While the Polemos vision remains the same, we are in the process of fortifying our structure with Whitepaper 2.0 officially in the works.
As we press on in our successes to climb to the top of the GameFi Metaverse, we remain agile, objective, and embrace change with open arms. Expect Whitepaper 2.0 to include some revisions and additional details for our long-term vision. No ETA for the launch has been established, so make sure to keep a close watch on Polemos updates.
Worldbuilding within the Polemos Universe continues to amaze our community and our entire team. Some illustrations have been made for the Encyclopedia revamp including the Forest Ghoul and a few incredibly detailed Worlds. Our inventory of icons and pictures for the main website and Polemos Forge has grown exponentially this month. Sculpting for all female Naru models is officially complete and next up are the males.
We also delight in reporting that animations for the first twins are looking fantastic in idle poses. Me'Eri, one of the feisty Goddesses from the planet Limera, is nearly complete, keeping us on track for 20 characters in the near future.
With all of this new amazing art waiting to be revealed from behind the velvet curtain, we are excited to announce a full rebrand is underway to showcase our new artwork style. To give you a taste, our new website design is officially live! Make sure to check it out to completely immerse yourself in the Polemos Universe. Our website redesign also comes with a fortified library of blog posts to highlight useful blockchain information and offer a high level overview of crypto and GameFi in general.
Polemos is seeing such rapid growth across the board, so we are also working on an updated newsletter format to match our expansion. It is expected to go live in the near future, so sign up now to be imported to our new system. Our Twitch following is increasing as well, so look forward to more streams around our fantastic Polemos events and tournaments. We are also pleased to announce that we have eSports coaching services for Illuvium coming very soon — a moment we have all been waiting for!
In case you missed it — we hope you didn't — Polemos announced the soft launch of our merch site. This has been a long time coming and we are beyond elated that loyal Polemians everywhere will be representing our fantastic community! We are only using the merch site for giveaways at the moment.

Together, We are Polemos
Vision alone does not achieve the dream. Polemos is truly made possible by our extraordinary community of loyal Polemians. In this upcoming month, our team looks forward to providing exciting updates on the Forge, hosting amazing partner game tournaments with even more amazing giveaways, a great deal of stunning artwork, surprise leaks, and so much more!
The GameFi Metaverse is ours for the taking. We can't wait to share it all with you.
Don't forget to follow our social accounts to stay updated on our latest releases! We're launching something new that we want everyone to see!